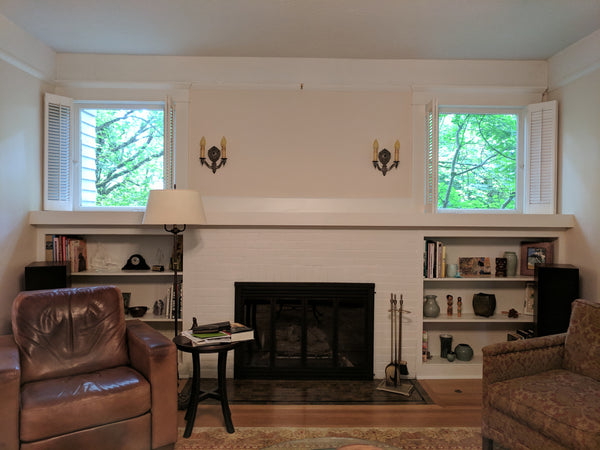 Our clients purchased a fabulous 1913 bungalow in Portland's Laurelhurst neighborhood.  The house is in great shape and has a wonderful layout, but the walls had been painted light grey throughout, and they were looking for help in choosing colors that would augment their lovely furnishings and bring out the true beauty of the home. 
The living room is transformed with a framed M.H. Birge & Sons original wallpaper piece from our collection hanging over the fireplace, flagged by period sconces.  The fireplace has a decorative painting treatment that picks up on the colors in the hearth tile, with a hint of micaceous gold that offers a subtle glow.  The walls and trim are a warm combination of honeyed tones. 
One of the great features of this house is the nook off of the dining room.   

 Once again, from our deep portfolio of M.H. Birge wallpapers, we found the perfect pattern to transform the nook.  This is a reproduction of a 1905 paper, with the colors slightly adjusted to work with room appointments.  The trim color was chosen to complement the paper.  The ceiling was painted with a metallic gold that picked up on colors in the paper.  The overall effect is both cozy and sophisticated. 
Here is the paper as shown in the 1905 Birge Catalog:
We also provided color recommendations for the Dining Room:
  Entry Hall:
And Vestibule:
(Select photos courtesy of Jim Heuer)