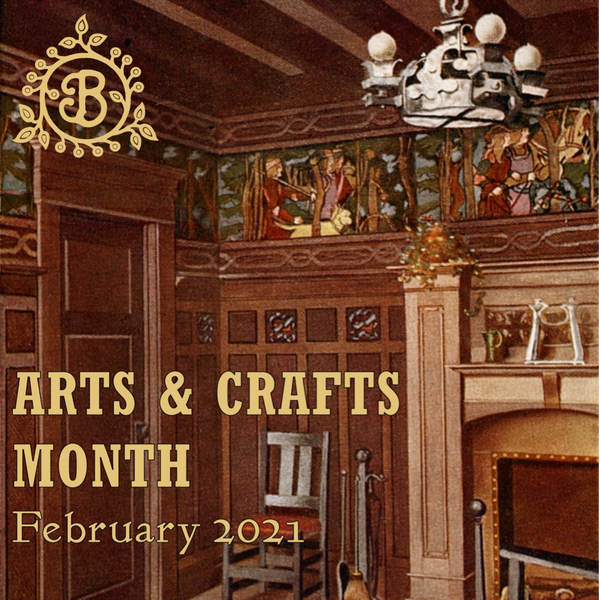 WELCOME TO ARTS & CRAFTS MONTH AT BOLLING & COMPANY!
Explore rare original museum-quality antique American wallpapers from the Arts & Crafts era and beyond in our virtual shop during the 2021 National Arts & Crafts Conference.
USE CODE AC21 AT CHECKOUT FOR 25% OFF ALL PURCHASES OVER $100 DURING FEBRUARY.
CLICK HERE TO EXPLORE OUR ARTS & CRAFTS-RELATED OFFERINGS.
BOLLING & COMPANY + THE ARTS & CRAFTS MOVEMENT
The country's leading purveyor of museum-quality antique wallpaper as remnants, rolls, and framed heirloom art pieces, Bolling & Company offers an exceptional, one-of-a-kind selection of rare authentic surviving papers for collectors and connoisseurs of beauty, architectural history, and the decorative arts.
ARTS & CRAFTS WALLPAPERS: AN UNEXPLORED COLLECTING NICHE?
(Landscape Frieze, Wm. Campbell Wall Paper Co., Charles Edwin Kinkead, designer, 1904, above, WQ-10677)
AN AMERICAN PRINTING TRADITION
We specialize in the original hand-printed and embossed "leather papers" produced by M.H. Birge & Sons of Buffalo, NY (which were found in many of the highest-end homes of early twentieth century), however our collection also includes a wide range of antique papers from other American manufacturers such as The Robert Graves Co., Fr. Beck & Co., Carey Bros. Wall Paper Mfg. Co., Hobbs, Benton & Heath, Standard Wall-Paper Co., S.A. Maxwell Co., Gledhill Wall-Paper Co., and Wm. Campbell & Co.
(Ad showing block printing in the Mission Building at the 1901 Pan-American Exhibition, M.H. Birge & Sons, Buffalo, NY, 1905, above)
MORE THAN ARTS & CRAFTS
Many fans of the Arts & Crafts Movement are also passionate about other periods and styles, especially the preceding Aesthetic Movement – explore our entire collection to discover outstanding examples of these exotic Gilded-Age designs and many others!
We will be posting special offers via our Facebook and Instagram pages during the month, so follow us there and stay tuned for rare limited editions and special deals throughout the month.
In addition, check out our affordable small pieces and gift items - Hand-Made Journals and Frameless Accent Panels. 
(Mosaic Frieze with Winged Griffins, hand block-printed on Munroe Ingrain paper, patented June 4, 1878, above, WQ-10676)
ORIGINALS & REPRODUCTIONS
NOTE:  The Bolling & Company collection consists of authenticated original wallpapers – not reproductions.  However, we are able to adapt and customize most any of our papers for printing as new digital reproductions not only on wallpaper, but on metal panels, fabrics, and even glass. Explore some of our projects below, and get in touch to learn more.
 An Original Birge Paper Installed
Installation of a Birge Reproduction Paper and More
Check Out Our 1916 Bungalow "In-Home" Showroom  
EXPLORE ARTS & CRAFTS WALLPAPERS & MORE
Selecting Designs & Prepping Walls for an Arts & Crafts Reproduction  
Wallpaper: From the Gilded Age to the Space Age 
The Bolling & Company Wallpaper Archive
Wallpapers at the Cooper-Hewitt
Wallpapers at Historic New England